Early Bird Discounted Tickets
Close Friday 14 February 2020
(Term 1, wk 3)
Teams (max 8 per school): $335 per person
Individuals: $360
Full Price tickets
Close Friday 3 July 2020
(last day of Term 2)
Teams (max 8 per school): $380 per person
Individuals: $400
All prices are GST inclusive.
Step 1: Grab and pay for tickets now, details later
Decide how many tickets you need for your team (up to 8). Then, one person – your Conference Organiser – buys tickets for your team and receives one tax invoice. Payment is by credit card (fees are not charged to you) or Pay on Invoice.
You can either:
PAY NOW – DETAILS LATER: simply grab the number of tickets your school needs

. Then, later on, jump back into Humanitix and add your team's information and workshop selections;

or
PAY AND ENTER ALL DETAILS NOW if you already know who you want to send and their workshop selections. To help you quickly gather this information we've created Planning Sheets for you to print at Step 3.
Remember: seats are limited for workshops, so if there's a speaker you'd really like to see, get in quick to reserve your spot. First in, best dressed.
All details and session selections must be provided by Friday 3 July 2020 (last day of Term 2).
Step 2: Create your team
Get your staff together and decide who is going. Your school team could include the following educators:
Early career teachers, K-6
Experienced teachers, K-6 
Maths leaders: your school's maths team members
School leaders: Principals, Deputy Principals, Assistant Principals.
Because this is a team-based conference, it's an excellent opportunity for you to gather a team of classroom teachers and leaders so you can hear the information first-hand and come away with a consistent whole-school approach to mathematics at your school.
Step 3: Print your planning sheets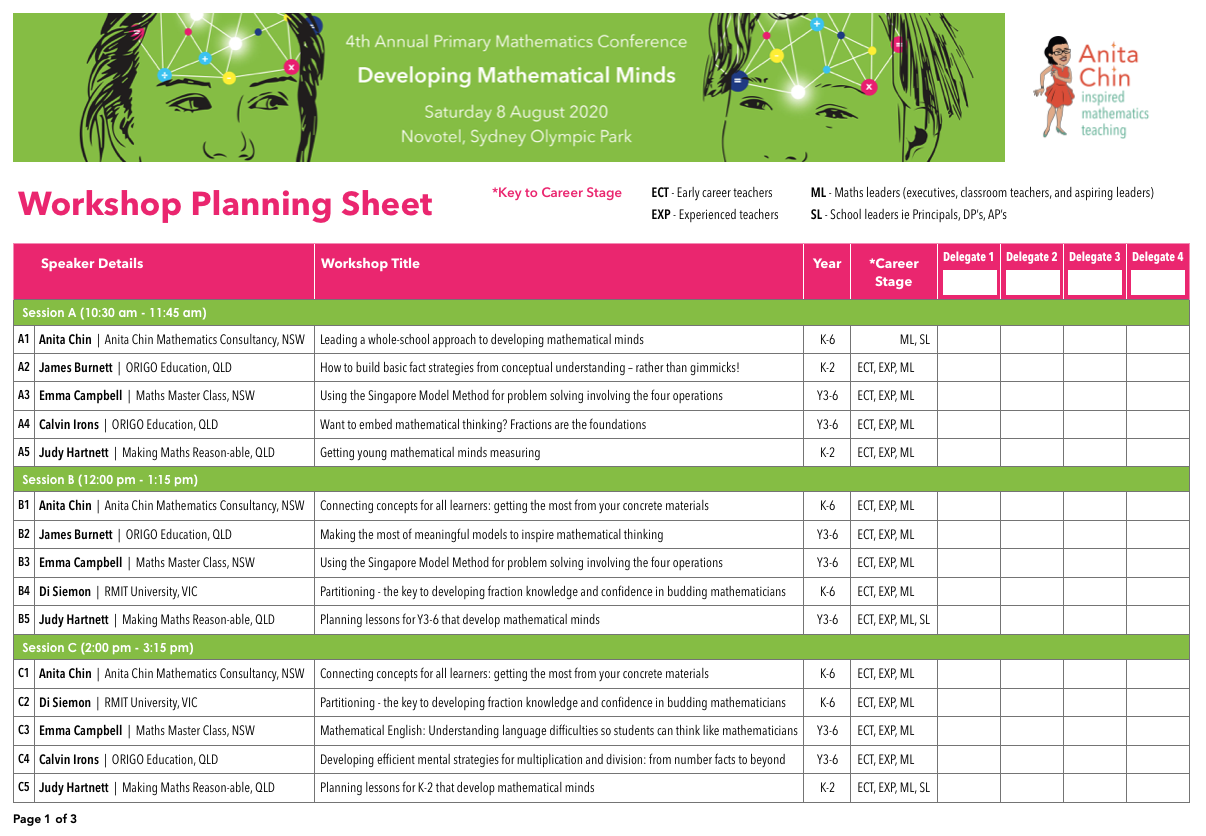 Use this sheet to strategically plan your team's selections by the following to gain maximum benefit for your school:
   > workshop year level (K-2, Y3-6, K-6) and
   > teacher career stage (ECT, EXP, ML, SL). 
There are three concurrent sessions, each with five workshops to pick from. You can find the list of workshops on the Program page.
Step 4: Call a 5-minute team meeting to gather all delegate details
Agree who's going to which workshops. Record this on your Workshop Planning Sheet from Step 3.
Gather each team members details as shown on the Delegate Details Sheet from Step 3 so they can receive reminders and updates. Record these carefully on your on Delegate Details Sheet for your Conference Organiser to use.
Note: Please ensure NESA Teacher Numbers are 6-digits.
Step 5: Update your team details
Once your Delegate Details Sheet & Workshop Planning Sheets are completed, the 'Buyer' (the person who completed the online registration) can update all delegate details and workshop selections directly online using the Humanitix link contained in the Confirmation email they received with your team's tickets and invoice. 
Any problems, just reach out to Cindy Pellas via email cindy@anitachinmaths.com.au.
IMPORTANT: All completed details must be received by Friday 3 July 2020 (last day of Term 2)
to secure your workshop attendance and qualify for NESA PD hours.
Cancellations and refunds
In the event that we are forced to cancel the conference due to COVD-19 social distancing requirements, your ticket price will be refunded in full.
However if you choose to cancel we will be unable to refund your ticket. Registration can be transferred to another staff member at your school at no cost, but workshop selection changes are not guaranteed.
All changes must be received in writing to cindy@anitachinmaths.com.au before the final closing date for ticket sales.